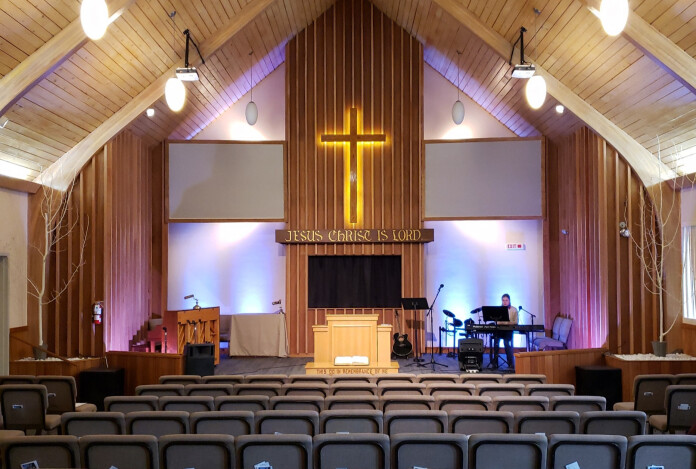 Cutting the Livestream Feed
"And let us consider how to stir up one another to love and good works, not neglecting to meet together, as is the habit of some, but encouraging one another, and all the more as you see the Day drawing near." (Hebrews 10:24–25, ESV)
When First Baptist Church of Kamloops launched its live stream worship service in March of 2020, it seemed to be a great blessing that people could worship from their homes and still maintain some contact with the church. We believe this was the right decision in that season. However, after nineteen months, we believe it is time to cut the live stream feed.
The Point of Gathering
Gathering together with the church is still expected of us by God. The very word we translate from Greek as "church" in the New Testament clearly means that we must assemble in person. The church gathering wasn't just a bridge for the Lord's followers for 2,000 years until humanity invented Facebook and started using Zoom. Gathering as a church is essential for the faith where we rejoice in the God who took on flesh and dwelt among us. It's essential in a faith that believes Jesus physically rose from the dead and then sat down to enjoy a meal with his stunned friends.
Worshiping God is an embodied experience. The Bible is clear that gathering is essential for the life of the church. In Matthew 18:17–20, in the context of speaking about the church, Jesus makes this incredible promise: "…where two or three are gathered in my name, there am I among them." Paul admonishes Christians to celebrate the Lord's Supper when they come together (1 Cor. 11:33). The author of Hebrews tells us not to neglect gathering ourselves together (Heb. 10:25).
We are not simply brains. We are not just minds that passively take in the prayers, teaching, and worship of the church. Rather, as those created with both body and mind after the image of God, we must experience with our physical bodies what is sung, prayed, taught, and tasted in worshiping God with our whole selves. We must experience this individually, together with others.
What happens in worship is that, together, our voices are lifted up in corporate confession in song. Our hearts bow together in corporate submission in prayer. Our bodies partake in a corporate meal in the Lord's Supper. We are corporately sent out with a blessing from the Lord in the final benediction. The sermon is the pinnacle of this corporate gathering, through which God speaks to His people… together.
The church just isn't the same when you separate its members (1 Cor. 12:27). The hands and feet and ears and eyes need to be assembled for this body to work for the good of all. Christians were meant by God to hear the babies crying in church. Christians are called to see the reddened eyes of a friend across the aisle, moved to tears by what God is doing in his heart. Christians need to chat, face to face, with the recovering addict who always shows up early to pray but still sits in the back. We need to feel the music crescendo toward that spiritual assurance of hope. Perhaps a very faint hint of that experience, of what God is doing among His people, can be felt in the live stream. But… at its best, live streaming is the spiritual equivalent of a deployed soldier having a Zoom relationship with his wife: painfully necessary, but never satisfying. Certainly, this is nothing that you would actually prefer.
Which is why we can be grateful for the technology of the live stream, but we must be even more wary of its dangers. Yes, there is something very dangerous about getting too comfortable with the live stream. With the live stream we can pacify ourselves with this little taste of the real thing, and that little taste can be used by Satan to actively work against our desire for the fullness of the real thing.
But what about the Outreach opportunities?
There is, of course, the consideration of how we are reaching people with the live stream. Many churches claim that their reach is far greater now as their online analytics soar. It is hoped that non-Christians are watching the worship service in their social-media feed, and it is further hoped that they will get saved. But our own analysis leads us to believe that perhaps the entirety of these clicks on our own live stream videos here at First Baptist Church are from other Christians who simply chose not to attend their own church. And they picked some other live stream worship service to watch that Sunday, and they decided to, "check us out."
This is when we believe Live-streaming is spiritually dangerous and dishonoring to the Lord. The web-surfing Christian doesn't even need to watch his own church's worship services. He can drop in on that church across town that he has always wondered about. Or even the church on the other side of the country, or even in a different country. Why visit any churches in person? In fact, why bother with any one church at all? Why not just watch the sermon over here and then enjoy the worship music over there? In fact, let's just change it up the next week or every week. Or skip a week? Or two? No one will notice the blip in the analytics…
It was already painfully obvious to us before the pandemic that far too many Christians approached their involvement in church from a consumerist mindset. The weakness of the church today is that far too many Christians continue to see church as something they consume, and not something that they are called to contribute towards and participate in. We fear that the surge of live streamed worship services has only further compounded this deception.
We are thankful for the ways technology has enabled people to hear sermons and music outside the walls of our church during the pandemic, but in this current season, we are concerned that our live stream is becoming just one more temptation used by Satan to keep brothers and sisters away from participating in their own local church, wherever they may be.
For these two main reasons, as well as several more, the board of Elders and Deacons have decided that it is time to cut the live stream feed.
When to Cut The Feed?
So, when do we pull the plug? We plan to end our live stream in three weeks, on October 24th. After we cut the live stream at First Baptist Church, we will still provide videos of the sermons and teaching through our website, because they are helpful in many ways. They are not a substitute for in-person worship.
We're thankful for the technology that got us through this pandemic. And we will retain this technology in the event that some other catastrophe should arise, or government intrusion should result in scattering our brothers and sisters apart from one another, or if other events beyond our imagination might conspire to separate the church. However, this is the time for us to live out the call of God for us to hold onto each other as tightly as we can, for He holds us in His hand, and He promises that nothing will take us out of the grip of His grace.
We will continue to use technology to build the church through sermons, podcasting, and the promotion of events and gatherings on social media, but we will gather to worship and glorify God.