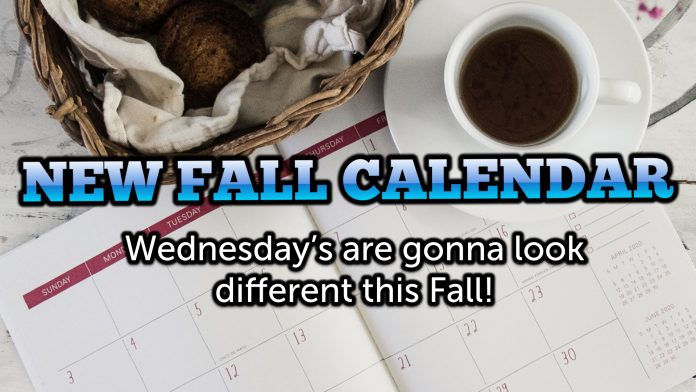 Our New Fall Schedule
Howdy!
As summer draws to a close and school is quickly approaching, let me be the first to say that I'm excited for your return from holidays! I can't help myself. I've missed you, and I'm eager to see you back at church worshipping the Lord and persevering in faithful walk with Him! When you get back from holidays, be sure to come find me somewhere around the church on Sunday morning so that I can say, "Howdy!" in my own Texas way!
With the arrival of Fall, we have some exciting events coming up very soon, so be sure to mark the following dates on your calendar:
Advance & Promotion Sunday, Sunday, September 4th @ 9:30 AM: Join us Sunday, September 4th @ 9:30AM for a pancake breakfast with all the old gang back together again, followed by an exciting time of worship. Catch up with dear brothers and sisters in Christ, hear about exciting new ministries & Bible studies that will be happening this fall, and celebrate, with the whole church, as we reflect on what God has done in the lives of our children this past year and watch our children promote up to the next grade of school.
Initium, Friday, September 9th: This Friday evening will be a time of recognizing & honoring our teachers in our Classical School, welcoming new students into our school and assigning them to their Houses, and kicking off the start of the Academic School year for First Baptist Classical Academy!
Back-to-School Carnival & Fall Kickoff, Sunday, September 11th @ 4:00 PM: There will be a ton of games, prizes, food, and candy! We'll have bouncy castles, animal petting, and even BB Gun Marksmanship contests! Get your teacher all wet by hitting the bull's-eye with a baseball and sinking them in the frigid water of the dunk tank! If you get enough tickets, you might even be able to make Pastor Josh kiss one of those farm animals! But best of all, every dollar raised goes to support First Baptist Classical Academy. Have fun! Support the mission of Christ! Join us September 11th!
A Few Changes this Year
While we are excited for these upcoming events, it's the regular rhythm of Fall that I wanted to write to you about today. Wednesdays are going to look a lot different this year, and nothing is going to be happening on Thursdays. Yes, your heard me correctly. NOTHING is going to be happening on Thursdays!
Why the change?
In the previous year, we gathered at the church on Wednesday evenings for a fellowship meal and a time of prayer for our city, while AWANA and Youth Ministries happened on Thursday evenings. We discovered last year that this proved to be too many evenings out of the house for too many of our families. By the time dinner and prayer ended on Wednesday evenings, kiddos were getting home around 8:30 to 9:00 with a little bit of homework that still needed to be done. They were getting to bed too late and going to school on Thursdays cranky. Thursdays were their fun night to go to AWANA or Youth. But then they wound up getting home late from church, and yet they still needed to study for exams and test that were often scheduled for the next day on Friday. It really didn't need much convincing to decide that we needed to keep families home and together on Thursday evenings so they could prepare for Fridays.
What
will Wednesdays look like?
So this year, we plan to run all of our Ministries & Activities on Wednesday night. For the first three Wednesdays of every month, we will have AWANA and Youth running from 6:00 to 7:30. For these three Wednesday's there will be no church-wide dinner or prayer meeting. However, on the fourth and final Wednesday of the Month we will cancel our AWANA and Youth programs. On this 4th Wednesday of the Month, everyone will gather together in the Fellowship Hall at 6:00 PM for a time of dinner and fellowship, to be followed by prayer.
So that's what our new schedule for the fall looks like! There are other ministries and Bible studies that will be announced in the weeks ahead, but I just wanted to write and say that this is what you can expect for Children's and Youth Programs and this is what you can expect with the Dinner & Prayer Meeting.
Again, I'm so excited to see you return from holidays! Join us at church on Sunday, let us worship the Lord, and let us take up once again that call from Christ to reach this city with the Gospel and let us run with endurance the race that is set before us.
In Christ,
Pastor Josh