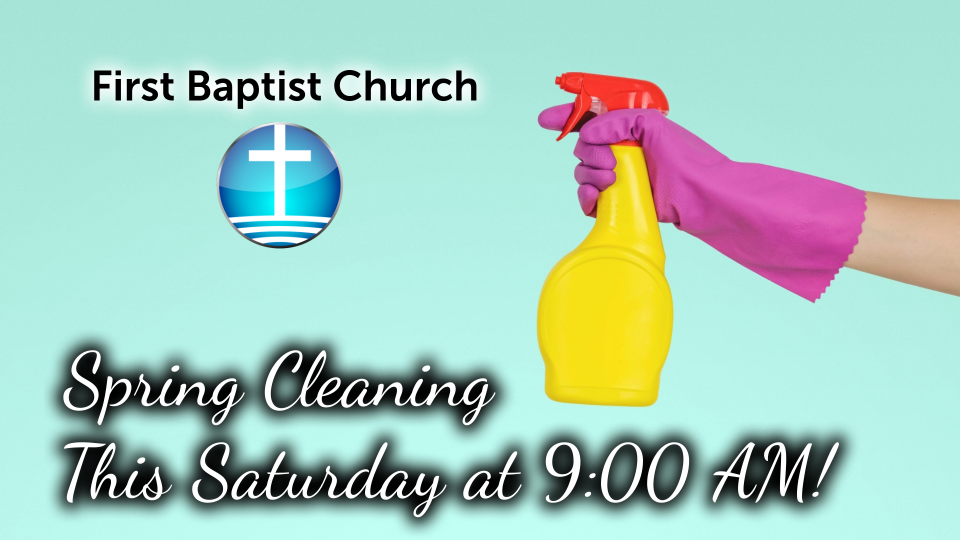 Saturday, March 18, 2023, 9:00 AM - 1:00 PM
Please join us Saturday March 18, for a church wide spring cleaning. It's that time of year again! As we look forward to the quickly approaching Spring and think warm thoughts about the Summer, it is time for a good scrubbing of our sanctuary.
An hour or two of your time to clear out the cobwebs would be greatly appreciated! Join us at 9:00 AM. We'll have coffee and muffins available at 9:00 with a brief devotion from God's Word. This will be followed by a thorough scrubbing of the entire building.
Men, bring your brooms, pressure washers, and hoses. Ladies, grab your buckets, scrubs, and brooms. We're going to strive to accomplish the following:
Clean up the salt and sand in the parking lot leftover from winter.

Pressure wash the fence out front and the rest of the building.

Clean and windex the windows.

Sterilize the toys in the nursery.

Wash down the scuff marks and handprints on the walls.

Clean and scrub the baptistry.

Steam clean the stains on the carpet in the sanctuary and balcony.
It'll be a great time of fellowship and camaraderie, and importantly, we will be getting our building ready to welcome guests for the Easter Worship services.
Above all else, be sure to join your heart together with ours as we prepare to remember the resurrection of Jesus Christ in the month ahead.