Matthew 6:16-18, The Lord's Chosen Fast, Part 2
Introduction:
The quickest way to a man's heart is through his stomach.
Example of love and an Example of Hate
Chicken fried Steak dinner when she was a vegetarian.
Candy bar that you just can't share. Ice Cream Snickers Bar
The Scriptures Bear Witness
"So when the woman saw that the tree was good for food, and that it was a delight to the eyes, and that the tree was to be desired to make one wise, she took of its fruit and ate, and she also gave some to her husband who was with her, and he ate." (Genesis 3:6, ESV)
Satan used this trick to great effect in the Garden of Eden, and he's been using it ever since.
"Noah began to be a man of the soil, and he planted a vineyard. He drank of the wine and became drunk and lay uncovered in his tent." (Genesis 9:20–21, ESV)
"Isaac loved Esau because he ate of his game, but Rebekah loved Jacob." (Genesis 25:28, ESV)
"that no one is sexually immoral or unholy like Esau, who sold his birthright for a single meal. For you know that afterward, when he desired to inherit the blessing, he was rejected, for he found no chance to repent, though he sought it with tears." (Hebrews 12:16–17, ESV)
"Why then do you scorn my sacrifices and my offerings that I commanded for my dwelling, and honor your sons above me by fattening yourselves on the choicest parts of every offering of my people Israel?'" (1 Samuel 2:29, ESV)
The people of God are often more concerned with what they eat than with following after God.
Meat pots of Egypt- "and the people of Israel said to them, "Would that we had died by the hand of the Lord in the land of Egypt, when we sat by the meat pots and ate bread to the full, for you have brought us out into this wilderness to kill this whole assembly with hunger."" (Exodus 16:3, ESV)
Fasting Expresses Remorse
"But I, when they were sick— I wore sackcloth; I afflicted myself with fasting; I prayed with head bowed on my chest." (Psalm 35:13, ESV)
""Now on the tenth day of this seventh month is the Day of Atonement. It shall be for you a time of holy convocation, and you shall afflict yourselves and present a food offering to the Lord." (Leviticus 23:27, ESV)
"For whoever is not afflicted on that very day shall be cut off from his people." (Leviticus 23:29, ESV)
Fasting is not denying yourself unnecessary things that you can do without in order to please God. Fasting is denying yourself very necessary food in order to depend more upon God, rely more upon God, and to hunger more for God. God wants our money, our hearts, and our bodies to glorify Him.
Achieving Horrible Success
Sometimes we are too eager to trade on our physical needs only to bolster our carnal desires. There is a difference between being seen fasting and fasting to be seen.
Losing Sight of God
To be seen fasting is not a bad thing. But fasting for the sake of being seen, even with the motive of encouraging such behavior in others, is dangerous.
Conclusion:
Anna: "And there was a prophetess, Anna, the daughter of Phanuel, of the tribe of Asher. She was advanced in years, having lived with her husband seven years from when she was a virgin, and then as a widow until she was eighty-four. She did not depart from the temple, worshiping with fasting and prayer night and day. And coming up at that very hour she began to give thanks to God and to speak of him to all who were waiting for the redemption of Jerusalem." (Luke 2:36–38, ESV)
Series Information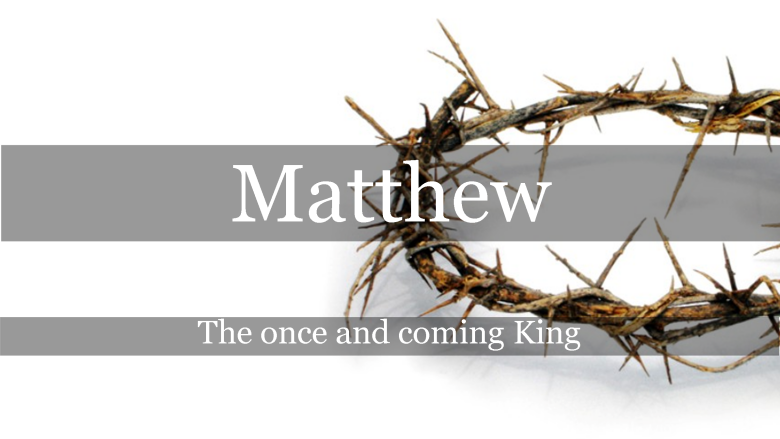 The Gospel of Matthew is a story about a once and coming King. Jesus of Nazareth is the Son of David, the long awaited for Messiah. He has come once, and Matthew tells the story of His arrival, ministry, sacrificial atoning work on the cross, and His promise to return soon.