Matthew 10:40-42, 1 Peter 5:1-4, "Crown of Glory"
A Review of Earning God's Reward
We have been walking through the Scriptures examining what God desires as He seeks to reward us for our service to Him. Over the past several weeks we have learned that in order to please God, win His favor, and earn His reward, we must
Trust in and proclaim the achievement of what Christ did on the Cross, and
Imitate the example that Christ set before us as He walked on this earth, setting that example publicly and transparently before others.
To earn the reward we must build upon the Gospel of Christ. Paul writing to the Church of Corinth 1 Corinthians 3:10-15 reminds them of the foundation of His work through his teaching as well as by his example. He writes:
"According to the grace of God given to me, like a skilled master builder I laid a foundation, and someone else is building upon it. Let each one take care how he builds upon it. For no one can lay a foundation other than that which is laid, which is Jesus Christ. Now if anyone builds on the foundation with gold, silver, precious stones, wood, hay, straw— each one's work will become manifest, for the Day will disclose it, because it will be revealed by fire, and the fire will test what sort of work each one has done. If the work that anyone has built on the foundation survives, he will receive a reward. If anyone's work is burned up, he will suffer loss, though he himself will be saved, but only as through fire." (1 Corinthians 3:10–15, ESV)
To earn the reward will require strenuous effort on our part and tremendous self-control. We achieve self-control by bringing all of our appetites, all of our passions, all of our desires into a proper order. We achieve the correct prioritization of our desires through keeping our focus on earning the ultimate reward, the Crown that God promises to the victors. We know this because Paul, later in the same letter to the Corinthians, writes in 1 Corinthians 9:24-27:
"Do you not know that in a race all the runners run, but only one receives the prize [crown]? So run that you may obtain it. Every athlete exercises self-control in all things. They do it to receive a perishable wreath, but we an imperishable. So I do not run aimlessly; I do not box as one beating the air. But I discipline my body and keep it under control, lest after preaching to others I myself should be disqualified." (1 Corinthians 9:24–27, ESV)
To earn the reward we must build Christ's Church through transparency, setting a personal example for others to follow through pursuing our individual walk with Christ. Paul, again reflecting on earning God's reward, earning God's crown, writes to the church in Philippi in Philippians 3:
"Brothers, join in imitating me, and keep your eyes on those who walk according to the example you have in us. For many, of whom I have often told you and now tell you even with tears, walk as enemies of the cross of Christ. Their end is destruction, their god is their belly, and they glory in their shame, with minds set on earthly things. … Therefore, my brothers, whom I love and long for, my joy and crown, stand firm thus in the Lord, my beloved." (Philippians 3:17–4:1, ESV)
To earn the reward we must gather God's people together into the church. In order to please God, win His favor, and earn His reward, we

Trust in and proclaim the achievement of what Christ did on the Cross, and
Imitate the example that Christ set before us as He walked on this earth, setting that example publicly and transparently before others.
If you are serious about earning God's reward, then you are sincerely humbled, trusting in Jesus' grace but you are even more dead earnest in being exactly like Him, following His example and calling upon Him as Lord.
One of the things that Christ did during His ministry was to gather people together. He often described Himself as the "Good Shepherd," and he even gives a prolonged discourse upon how He conducted his ministry as a shepherd tending to sheep in John 10. He calls his disciples to be like Him in shepherding, or gathering, God's people together into a community marked by purity and holiness.
If you want to earn God's reward, if you want to receive the Crown of Glory, then you also will seek to be a shepherd and to gather God's people together into the church and to guide them deeper in their walk with Christ.
Historical Background
Peter, writing around 64-65 AD to the churches north of the Taurus mountains in northern Asia Minor, present day Turkey and along the Black Sea, seeks to encourage them and to keep them together. Nero is the current Caesar of the Roman Empire, and he has just unleashed a massive campaign of murder, torture, and wrongful imprisonment against the Christian movement, persecuting the churches and the Christians. In the midst of this incredible persecution, the Christians are tempted neither to gather together nor be overtly conspicuous in living the Christian life.
Peter writes to these churches and addresses these elders or pastors to attend to the sheep for the sake of earning the Crown of Glory.
"So I exhort the elders among you, as a fellow elder and a witness of the sufferings of Christ, as well as a partaker in the glory that is going to be revealed: shepherd the flock of God that is among you, exercising oversight, not under compulsion, but willingly, as God would have you; not for shameful gain, but eagerly; not domineering over those in your charge, but being examples to the flock. And when the chief Shepherd appears, you will receive the unfading crown of glory." (1 Peter 5:1–4, ESV)
What is the Reward? The Crown of Glory
Peter alludes twice in this text to Glory. He says that he will be a "partaker of the glory that is going to be revealed." He also holds forth the promise of being awarded a "crown of glory." These two things are different.
Peter begins by declaring himself to be three things, and these three things are not related. The first thing that he calls himself is a "fellow elder." He writes, "I exhort the elders among you…" and then he shows that he is talking to people who are the same as he is by saying, "..as a fellow elder." He is the same as they are in the sense that he is also a pastor as they are.
But then he distinguishes himself from them by saying something about himself that is not true of them. He saw Jesus die on the cross. He saw Jesus suffer. This is something that is not true of these pastors in northern Turkey.
In some ways he is the same as they are, particularly as a fellow elder. In other ways he is different from them, particularly as an eye witness to the crucifixion of Jesus.
Then he includes the sharing of glory. It is an amazing truth that Jesus shares His glory with Christians.
So I conclude that it is one thing to partake of glory, but it is another to be awarded the crown of glory.
What is Glory? What is God's glory? Any typical dictionary will give you three basic definitions of glory:
High renown or honor
Magnificence or great beauty
Enormity or magnitude
What is God's glory? To see God's glory is to a have a limited and incomplete perception of His endless value, incomparable perfection, crushingly enormous magnitude, and totally satisfying worth.
Magnitude: To know God's glory is like seeing across the ocean. You can, at best, see a few miles out into the ocean and see nothing but endless waters, yet your mind is capable of grasping that there is more ocean then your eye can see, and in some way you begin to grasp the crushing enormous magnitude of God. For every square foot of water there is a corresponding weightiness to it, and for all the water that the eye can see one is capable of knowing that there is a crushing weight of water beyond what is able to be measured or observed. As one comprehends the ocean one knows that the human body can swim in that water and can even dive down to great depths, yet never could we ever know the crushing weight of the entire ocean upon us because we would die before approaching that experience.
God is incomparably perfect in every way: To know God's glory is like trying to draw a perfect circle. No such thing as a 100% perfect circle exists in the universe. Every circle we can draw or produce in anyway all have some small section of the circle that is in some way a little flat. Regardless of our inability to produce a perfect circle, we are still capable of conceiving mentally of a perfect circle. To conceive of something perfect, yet to never be able to achieve that perfection of which you can conceive and to experience the frustration of that limitation is like being able to conceive of God in His mannerisms, His emotions, the way He responds to us. We could conceive of something perfect like God, yet we would never be able to produce in ourselves.
Delight: To know God's glory is like trying to enjoy the sweetest tasting, most amazingly delicious dessert. For every bite that you savor your desire for more is intensified so that for every bite you take of that dessert you desire more of that dessert, and yet at the same time you bite into it you also experience the creeping end of it. Before long you're left with crumbs. But to see God's glory is to meet with a different frustration: never to come to the end of the delight, but to begin to sense that you will never begin to know it's pleasure in its fullest. To begin to perceive of God's glory is like eating a dessert, not worrying about finishing it, but of ever truly savoring it to its fullest.
Our souls were designed to know God's glory the way that a measuring cup is designed to know the measure of a substance. The way that a measuring cup is intended to come into contact with the substance that it is measuring, the way that a measuring cup is intended to be filled with the substance is the way we were designed for knowing, experiencing, tasting and measuring the Glory of God.
"…everyone who is called by my name, whom I created for my glory, whom I formed and made."" (Isaiah 43:7, ESV)
To be capable of perceiving as much as possible of God's glory is twofold. It is always twofold. It is
A chasing after the knowledge of, the experience of having a relationship with God, and
It must always be a simultaneous chasing after of self-improvement such that one is actually capable of perceiving more of God or measuring more of the Glory of God and therefore knowing Him better.
In this sense, there can be no measuring of God's glory, however limited or inadequate, without a striving after of improving the measure of the measuring cup of our souls.
Elders are Shepherds, but Anyone can Gather God's Flock.
While the text is very pointed towards Elders, it is still informative for the church. We talked last week about the example that Paul made of himself for the sake of the church in Philippi. I took that text that was very explicitly directed towards the church congregation as a whole and applied it to myself in terms of the example that I set before you.
This week I am taking a text that is very specifically pointed at the Elders of the church and applying it to you. Since we know that pastors are to set examples, and that the example of your pastor is there for you to imitate, then it follows that every warning that is offered here to the Elders, before the reading eyes of the churches which they pastor, is a warning which they are exhorted to heed and their congregations would be exhorted to imitate.
Everybody is called by God to be a shepherd. We are all called to be gatherers. Jesus makes this very clear in Matthew 12:30 where He says,
"Whoever is not with me is against me, and whoever does not gather with me scatters." (Matthew 12:30, ESV)
It is the Lord's intention that we all gather with him, not just the elders. So the following exhortations are not intended just for me, or those aspiring to the office of Elder. These warnings and admonitions are intended for all of us.
Three Refinements for those who would Shepherd Sheep or Gather Together with Christ
The Call to Take the Initiative
The exhortation to exercise oversight is an exhortation to be in charge. The word, episkopountes from the verb episkopeo, means to watch over, to direct, care, and be accountable for the successful completion of some purpose or object. In other words, to be the man in charge.
Refining our Work Ethic: A warning against Laziness
Exercise Oversight not under compulsion
Exercise oversight willingly or voluntarily as God would have you
The exhortation for the elders to exercise oversight is an exhortation to make decisions and take personal individual action that will be in the best interests of the church according to the wisdom and direction and counsel that is offered in the scriptures. Remember that all authority is derived from god and therefore all authority is ultimately subservient to His purposes and His plans.
The Elders are called to be in charge on God's behalf for the sake of the church. Not to feel obligated to it, not to feel like they have to do it. The elders are instructed to exercise oversight voluntarily. The attitude matters. The motivation of the heart matters. God's desire is not that we would feel like this is a chore, but that we would see this opportunity to gather people together and to make decisions for that gathering as an incredible opportunity.
It is a rebuke against laziness.
BY EXTENSION – every person is empowered by God to make decisions about their individual ministry of gathering people together into this church. You must remember that
your decisions are steps of action and obedience which you must follow through with, and
Your decisions are always subservient to the purposes of God as revealed in his Word. You do not have the freedom to make a decision that is clearly contrary to Scripture and sinful.
You are called to exercise oversight for your own individual ministry of gathering and shepherding, and not as a chore, not as an obligation, but as a volunteer who is interested in winning the Crown of Glory. So don't be lazy.
Refining our Desires: A warning against Greed
Exercise oversight not for sordid gain or shameful gain
Exercise oversight with eagerness and with a desire for the task
The text is specific stating that our ministry is not to be conducted for monetary enrichment. The word is specifically tied to some form of worldly profiteering. The text is not by any means against the idea of gain or reward, but is clear to make sure that we focus on the true nature of the task for the right reasons.
You may engage in pastoral ministry all day long, and you may even be good at it, but if your motivation is for personal monetary or worldly profiteering, then you are not earning the crown of Glory. You are glorying in this world. You are not expanding the measure of your soul to know more of the Glory of God. You are expanding the measure of your pocketbook to know more the possessions and pleasures of this world.
Refining our Focus: A warning against Pride
Exercise oversight not by lording over those allotted to you.
Exercise oversight by proving and reproving by your example
At this point in the text a powerful tension arises: God calls me to want to shepherd God's flock by pointing them to my example in order that they may receive not only academic instruction but may observe my practical obedience. I am instructed to want you, the church, to imitate me, but not in such a way that I "lord" over them.
The Lord is to lord over you. And it is at this moment that we are called to walk the hardest of all possible lines. It is at this moment that we are called to stretch our souls to greatest possible measure. It is at this moment that we come closest to knowing more of the glory of God and come even closer to throwing it all away, knowing only more of our own sinful pride.
By calling people to follow a Godly example we are simultaneously challenged to study the example of Christ and equally tempted by Satan to redefine the example of Christ into something more akin to our own image, our likeness, our own personal desires and ambitions.
Let pride in ourselves, in our own ideas, and in our own opinions be gone. Let Christ be our Lord, and let Him Lord over us that our example might be helpful to those who are called to imitate us.
This is no easy task, and I dare each of you to try for it. With my daring challenge I offer a caution: be sure you know the difference between leading others to yourself and leading others to Jesus through your example. Because it isn't always easy to see the difference.
Sometimes hear comments like, "I'm very concerned for this person's behavior…" or you might hear, "I have some major concerns with this particular church…" Such comments might have merit, but I am always waiting for the other shoe to drop when I hear people say that. Invariably, the comment is self-exalting if nothing specific can be cited and if any particular objection cannot be placed and grounded somewhere in the Bible. Such comments are subtle attempts at self-exaltation.
One way that I try to make sure that I am leading others not to me, but to Christ through my example is by always quoting book, chapter and verse. If I cannot definitively give a specific scripture reference (book, chapter, verse) that supports my opinion, my behavior, or my response to a given situation, then I consider that to be an action of Joshua Claycamp, and not necessarily a something that must be imitated.
But, if my behavior is supported by book, chapter and verse… you will be hard pressed to justify not imitating my behavior or my approach. Tie your example to the word, always to the Word of God, and you will sleep better at night when you reflect on the example that you are setting before others.
Series Information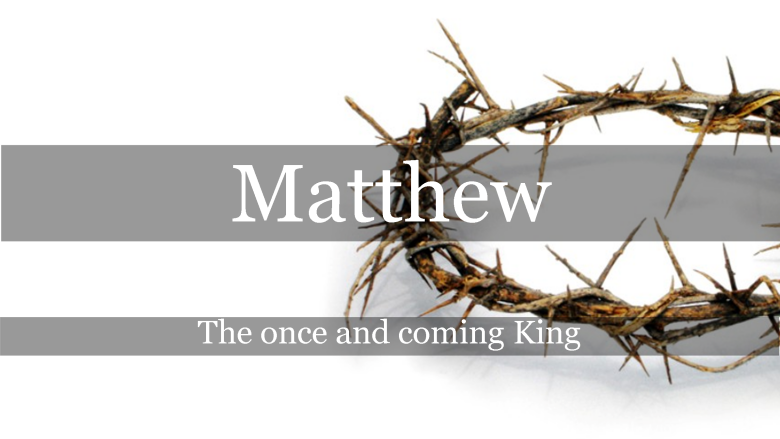 The Gospel of Matthew is a story about a once and coming King. Jesus of Nazareth is the Son of David, the long awaited for Messiah. He has come once, and Matthew tells the story of His arrival, ministry, sacrificial atoning work on the cross, and His promise to return soon.