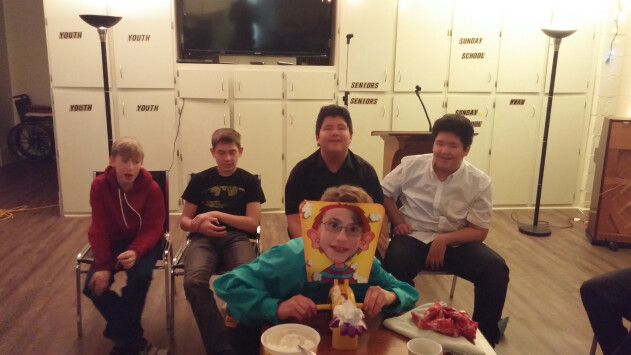 What We Do
First Baptist Youth Ministry is dedicated to being Kingdom Expanding, Character Transforming, and Culture Shaping! This means that we help students see how God can and should be involved in every aspect of our lives. We work to help households grow closer to each other and closer to God so that they can find contentment, joy, hope, and purpose in their lives. We work with parents to challenge students to become Godly and mature men and women.
Our Activities our open to students in grades 5-12
For more details, please contact Ryan Bleyenberg at 250-828-6222
Weekly Activities
Sunday Worship
On Sundays, we encourage all teens to join us in the Worship Service starting at 10:30 AM. This is a great time of worship through singing and hearing a message from one of our Pastors with people of all ages.
Youth Group
Our Youth Group meets every Thursday from 6:00 -7:30. Teens are invited to hang out for a time of games and group challenges while also engaging in times of worship and Bible study. This is a safe and loving atmosphere, which makes it perfect to make new friends and find answers to questions like Who is God? How do I make sense of the Bible? What does is the point and value of being a Christian?
We also spend time together just doing fun things. About once a month we plan some kind of fun event or adventure such as boating on a lake, seeing a movie, or epic Nerf wars.
Camps/ Retreats
Gap Retreat
Gap Retreat is a special event in September. Are you new to town, new to church and Christianity, new to this group? If so, then this event is designed specifically for you. If you're a "new" kid, then you might feel like an outsider. This event helps close the gap. You'll learn who God is and what to expect in our group. It's a super fun event that will help you feel comfortable and safe coming to our youth group week in and week out.
D-Now
D-Now is a weekend, in-town retreat open to all students in gr. 7-12. Students stay in the homes of members of First Baptist and take part in small-group Bible studies, times of worship, group challenges, games, and much more! More information on how to register your student for this awesome weekend is coming soon!
Sunnybrae Camps and Retreats
Sunnybrae Bible Camp is an amazing place on the Shuswap. They host multiple retreats and camps through out the year. Whether it's a weekend retreat or week-long summer camp, it's always full of outdoor adventure, fun on the lake (including kayaks, skim boarding, paddle boats and swimming), rock climbing, BMX, hiking, sports, great food, amazing chapel sessions with worship and messages, and great opportunities to meet other students from across BC.