The Most Recent Scandal is really Silly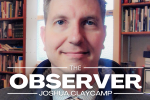 It's Thursday, April 28 2022. I'm Joshua Claycamp. And this is the observer, a reflection upon the news from a biblical perspective, in order to help Christians understand how we need to think and feel about current events.
A rather curious event happened yesterday in Ottawa. The Tories asked the RCMP to reopen an investigation that ended more than four years ago into the activities of Prime Minister Justin Trudeau when he took a holiday a Christmas holiday at the private Bahamas island that was owned by the Agha Khan. Trudeau back in 2016. accepted the invitation from the Agha Khan to spend the Christmas holidays with him in the Bahamas. Trudeau flew to Nassau on an RCAF jet, Royal Canadian Air Force jet. But from there, the AGA Khan's helicopter took Trudeau to the island where he, his wife, Sophie and then MP but now labour minister Seamus O'Regan and some Liberal Party officials enjoyed the AGA Khan's hospitality for the holidays.
Parliament's conflict of interest and Ethics Commissioner would subsequently determined that Trudeau broke provisions of the conflict of interest act in accepting what she deemed to be gifts from the Agha Khan, whose organization the Agha Khan Foundation was at that time receiving federal government grants for its humanitarian work and had registered in order to lobby several of several different ministries within the government including the prime minister's office.
Researchers with the Conservative Party filed a request under the Access to Information Act to the RCMP in order to determine what steps investigators took in order to decide or to determine whether or not Prime Minister Trudeau had broken any other laws. The results of that request for information were recently provided to the party and the party has in turn provided them to several news organizations including global news. Among the 623 pages of RCMP documents released to the conservatives, was a decision tree flowchart prepared by investigators to determine if an accepting the vacation offered by the Agha Khan, Trudeau could be charged with fraud on the government.
As you can well imagine conservatives went apoplectic yesterday on parliament, demanding that new investigations be opened into this nearly six year old scandal. That's not what's really newsworthy to me. As I was reviewing this information on global news and on the Globe and Mail, one of the documents that was provided was in fact, this decision tree. And as I was looking at it, the thing that really struck me about all of this was that there is a government bureaucrat somewhere who has been paid legitimate tax dollar money in order to come up with a decision tree that would help the top notch investigators of the RCMP in order to help them to understand whether or not Justin Trudeau committed a crime.
Now, I am stunned at this decision tree and you will be too once you get a look at it for yourself. But in the meantime, let me just describe it to you. There are a series of questions that start at the most basic level, and then of course, advanced to the more complicated level. And as you work your way through this decision tree, you come to an understanding of whether or not you should charge the prime minister with fraud on the government. Let me read these questions to you.
Question number one... this is where the top notch investigators of the RCMP started asking these very basic very preliminary questions. This document was filled out and was used by a real investigator somewhere.
Question number one. Was Mr. Trudeau, a government official? That's right, the first question we have to ask ourselves as we have been made aware of this alleged crime that the Prime Minister of Canada has committed, is he indeed a government official? And of course, if the answer is no, then you work your way through that part of the decision tree process. And you if you answer that Mr. Trudeau, in fact, is not a government official, well, then he is not guilty of committing a fraud on the government.
Now, just wait a second. Is he or is he not the elected Prime Minister of Canada? If we come to an understanding from the get go that somehow in some way, he isn't, in fact, a government official? And yet we're all looking to Him as the Prime Minister of Canada? Well, maybe he's not guilty of fraud on the government in terms of receiving gifts in kind from the Agha Khan, but he's got to be guilty of something. We're all just sort of puzzled at this question. How do you ask that question? What? Why is that question the starting place? I believe in covering your bases, and I think as Christians, we surely must be thorough in logically thinking through all of the various possibilities and in love, as Paul would tell us in 1 Corinthians 13, we should certainly strive to think the best about people and not assume that they are guilty of heinous crimes and only come to these conclusions, reluctantly, if that's where the evidence leads us. I agree with all of that. But to start here with this question, Was Mr. Trudeau in fact, a government official? And if the answer is no, then he is not guilty of committing a fraud on the government, or is he? I'm wondering, I'm wondering more about our RCMP than anything else.
But nevertheless, the document tree, the decision tree continues. Let's assume for a second you answered yes to that question. Did Mr. Trudeau accept a benefit from the Agha Khan? Yes. So your first question is, is he a government official? And if the answer is yes, then you proceed to the question. Did he in fact accept a benefit from the Agha Khan? Well, there are numerous photos and numerous videos that are posted to social media that show Prime Minister Justin Trudeau along with various ministers, various cabinet officials and other members of his party clearly enjoying a holiday a Bahama holiday Christmas holiday on the beach there in the island with the Agha Khan. And so it seems again like a rather a rather basic question. So let's say you answer yes, in some way, shape or form. There seems to be evidence that would point to the fact that Prime Minister Justin Trudeau did in fact accept some kind of benefit from the Agha Khan. The answer is yes. Okay, moving on.
Next question. Did the Agha Khan have dealings with the government? Again, this is all at the heart of the investigation. The answer is clearly, yes. Now we're getting somewhere. Did Mr. Trudeau have the consent in writing of the head of the branch of government for whom he worked? Now this is indeed where the issue and the controversy surrounding Prime Minister Justin Trudeau is taking of these gifts from the Agha Khan becomes controversial. The reason is controversial is because there is a stipulation within various ethics rules governing ministers and and heads of cabinet that state that you are allowed to take a gift from an outside party if you have permission from your supervisor from your senior supervisor. Unfortunately, in Mr. Troodos case, he was the Prime Minister of Canada. What's he going to do, write himself a note?
Well, this seems rather childish at this point. But yes, in fact, that seems to be the case. He needed to somehow, in some way, demonstrate that he had authorized himself to receive these gifts from the Agha Khan. And indeed, this is where the decision tree that the RCMP used in terms of trying to make a decision on whether or not to charge Prime Minister Justin Trudeau with crimes against the Canadian people, they answered this question unknown. It was unknown, so they did not answer it with a hard Yes. And they didn't answer it with a hard No. They simply did not know whether or not Prime Minister Justin Trudeau had written himself a little note saying it was okay for him to go to the island of the Agha Khan. And so because they could not answer that question definitively, yes or no, they then rendered it a final verdict of not guilty.
Over in The Globe and Mail This is where the issue becomes sticky. Conservative leader Candice Bergen said in question period in the Commons on Tuesday that the RCMP, quote, knew that there was a loophole that he could have used. As silly as it might sound, the prime minister could have written himself a note given himself permission to take the holiday. On the floor of Parliament. She asked Mr. Trudeau if in fact, he had done it if he had actually gone to the lengths that she believed he needed to, to write himself a little note. And, of course, the way she worded it, did he in fact, give himself permission to break the law. That's the political spin that you can expect the conservatives to place on this going head to head with the liberals.
And of course, Mr. Trudeau, perhaps unwittingly replied, No, Mr. Speaker, he went on to elaborate he said the RCMP looked into this matter and no political interference was around it. He added, they came to their own conclusions that there was nothing to pursue. The opposition leader hadn't suggested that Mr. Trudeau interfered in the 2019 decision of the RCMP not to charge him with fraud. The fact that he went on to say that there was no interference involved. Perhaps he misunderstood the question. But inadvertently he answered on the floor of parliament that he had not in fact authorized himself or given himself permission that he hadn't gone to the extent to write himself a little note, and immediately conservatives pounced upon this.
One Conservative MP calling for the RCMP To reopen the investigation and to use his most recent comments as evidence against him. As Christians, again, we need to step back and when you understand that there's a degree of pettiness to this. And as Christians, we need to recognize that such pettiness is really beneath us. As those who walk with the Lord Jesus Christ, we recognize that when the Lord returns, He will bring every deed every secret deed into judgment, and he will hold all men accountable for their actions. Reflecting on the scriptures, we are reminded of what Paul writes to Timothy and Second Timothy 223 to 24. And giving Timothy counsel as a young pastor pastoring the church at Ephesus, Paul says, Have nothing to do with foolish and ignorant controversies, you know that they breed quarrels, and the Lord servant must not be quarrelsome, but kind to everyone able to teach and patiently enduring evil.
As Christians, this needs to be our approach as well. What I find most humorous about this entire story was the decision tree that the RCMP needed to use, before they could make a decision about whether or not Justin Trudeau needed to be charged with a crime. Now, of course, you and I can step back and say it is a serious breach of ethics, to have the Prime Minister of Canada, taking a vacation and receiving gifts in kind from an individual whose nonprofit organization is lobbying the government of Canada for money in order to continue its charitable work in various countries around the world. That is, indeed a conflict of interest, as the Ethics Commissioner previously ruled.
But was it in fact, a breach of the law? It appears that as long as Prime Minister Justin Trudeau was okay receiving the gifts and was willing to hold himself to some sort of accountability, even if he himself is holding himself accountable? Well, then in terms of the way that our laws are written, it does not appear that he broke the law. It certainly is unethical, don't get me wrong. And as Christians, we should be able to point out that indeed, this is this is unethical, but to continue to operate and to act as the Conservatives are as though some major revelation has unfolded. Well, I think that perhaps Prime Minister Justin Trudeau did not intend for his admission to carry that kind of weight from the floor of Parliament. But additionally, this is a splitting of hairs. I go back to it. And I just say to myself, what kind of investigators are we hiring with the RCMP? When we look at this, this decision making tree, we should pray for all those in high places, we should pray for our prime minister as he leads our country. The Scriptures tell us that we should pray for government officials. And I might add, as we bring this story to a conclusion, you and I should probably be praying as well for RCMP investigators.
But next, as we come to the end of April, I want to revisit the major Christian holiday that took place in the month of April, namely speaking of Easter, as we reflect upon churches in Canada, one of the realities that we are facing particularly within the evangelical churches, here in Canada is a leadership crisis. And there is also a shrinking I would say a pruning of the church that is happening in Canada, whatever pruning whatever shrinking of the church that we see happening amongst evangelical churches in Canada, it is painful to observe, but it does not even remotely compare to the outright death knell that is spelled for many other mainline denominations. In particular, I'm referring to the United Church.
We read an article on CTV News that in Edmonton, one of the oldest churches in the city, the MacDougal, United Church hosted Muslims within their building to pray together alongside Christians on Good Friday. And the article tells us that every night in April for the month of Ramadan, Muslim men and women have used the McDougal United Church in downtown Edmonton for nightly prayers. Now the Muslim tradition of Ramadan requires fasting throughout the month of Ramadan, it is a daytime fast that is from sunrise to sunset, Muslims are not allowed to eat. And so of course, they usually will come together at the end of the day, which could be late in the evening at nine or 10pm at night, in order to break their fast and to have a time of celebration.
And one of the things we realize we one of the items that we recognize as we work through this story is that the United Church, the MacDougal, United Church in Edmonton was allowing their building to be used for this gathering. Now, why would they do that? Of course, within the United Church, we recognize that long ago they stepped away from orthodoxy. We understand the United Church today to be a false church. They are not preaching the true gospel and they are not encouraging adherents to surrender to the Lordship of Jesus Christ. Indeed, they allow all manner of behavior amongst their various constituents in adherence that is clearly condemned and forbidden within the word of God. And so if there was an idea that there might some there might be some sense of supernatural conversion, or regeneration. As Baptists, we would say a new birth taking place in the hearts and in the minds of Christians, they are not encouraging that new book birth, suggesting instead, this is the United Church success suggesting instead that rather than being born again, we simply need to celebrate Jesus, and we can do so and whatever lifestyle we are currently living. This extends to all manner of behaviors and attitudes and actions that the scriptures clearly condemn, as being sinful, and contrary to the will of God.
But this instance is truly intriguing. It is apparent that the United Church and trying to find ways in order to keep itself running not as a church, but as an institution, in order to find ways to keep the organization running as an institution is turning to some really, really interesting solutions. And probably this one takes the cake inviting a Muslim community into your church sanctuary in order to hold prayers, and then celebrating Islam with them. As the article goes on to say the Muslim Association of Canada and McDougall's congregations came together Friday, this would be good Friday in order to celebrate their respective faiths together.
And this was happening for the first time the article tells us Maryanne patchstick, a spokesperson for the MacDougal church said quote, it's an opportunity for us to meet and greet with our Muslim friends that are using this space. And on the Islamic side Yasin setien, the Outreach and Engagement advisor for the Muslim Association of Canada said quote for us as a Muslim community, reciting the Quran is really special, especially in a space like this as well and quote, the partnership began as a way to provide Muslims working or living downtown, a space for prayer. Since 2021, that historic church has been seeking development proposals the article tells us in order to incorporate it into some sort of a multi use community hub, Patrick said that the current congregation of 75 people at the United Church is simply not enough to support the needs of the aging building. But Fostering partnerships with other faith and community groups could help create a shared space that could be utilized for all Patrick went on to say, quote, We are hoping that we can develop this relationship with the Muslims into a long term relationship. Conversations are continuing about what our future together would look like and quote.
Now, in this situation, there is no other conclusion that we can arrive at, but simply to say that the United Church and particularly this United Church here, the MacDougal United Church of Edmonton, have simply decided that worshipping the Lord Jesus Christ is not supernatural, that there is no power in the Lord Jesus, that there is nothing absolutely earth shattering, that there is no power of resurrection life, that there is no deliverance from sin. And above all, we have to say that this faith of Jesus, which true Christians hold to, as far as the McDougal United Church is concerned, this faith in Jesus is not truth. It is not concrete, it is not what corresponds with reality. It is as far as we can observe from the MacDougal United Church perspective, simply one legitimate faith among many. Why else would they welcome an Islamic community into their building? Why else would they pray together with this and Muslim community to a God who is nothing like the one true God?
The only reason they would do something like this is if indeed they understood that there was no true god that all truth is relative that there is no objective truth. If they had believed in the God of the scriptures, they would not have turned to partnerships with with other faiths, other outright religions, such as the Islamic religion, in order to continue the operation of their building. Jesus said in his word that he builds His church and indeed the gates of hell shall never prevail against it. And why is this? It is because the Lord loves his bride. He walks with her, he defends her as her faithful shepherd, and He will guide her into glory. We know that to be the truth of the scriptures.
And even though we see a pruning even amongst evangelical churches in Canada, we look at the evangelical situation and we do not see churches that are struggling so desperately that they are thinking of turning to an Islamic congregation in order to, to split costs. This is something that we're beginning to see clearly within the United Church. And it points really back to the fact that they do not hold the faith with sincerity. This is the reality.
If this were a biblical church, they would be running up against all kinds of scriptures, I might quote a few of them such as say, Exodus chapter 20, and verse five, in which God says, You shall not bow down to other gods in order to serve them for I, the Lord your God, and a jealous God, visiting the iniquity of the fathers on the children to the third and fourth generation of those who hate me. Now, within that verse right there, this is the first commandment that God gives is a commandment to worship Him to worship Him alone. And in the commandment to worship Him, we also have the negative, the corollary, clearly stated, and that negative is this, you will never bow down to any other God to worship them, or to serve them.
And in case we missed it the first time around Exodus 3414. Within that same book, God says, again, You shall worship no other God for I, the Lord whose name is jealous, I am a jealous God. God describes his love for his people as one of jealousy. And so while it is true that worshiping the Lord at times takes Christians into difficult situations, one situation one solution to a difficult situation that God is never okay with, is us bowing down and celebrating and worshipping together with Muslims, Allah, or Mohammed, or anything like this, knowing that it is a false God, and God would never approve of such an action.
Of course, the United Church is approving of such an action. And as we look at their belief system, and as we look at the many different decisions they've made over the years, it has to be because they don't believe in the truthfulness of Jesus. And that in and of itself is a great, great tragedy, we should pray for those who attend the United Church, not necessarily that they're building would survive, we should pray for those who are attending the United Church, that they would come to a knowledge of the truth, the truth of Jesus, and so be saved.
And finally, today, on the Observer, we come to a topic that is less serious, but no less important. I am speaking, of course of the NFL Draft. That's right football, it's back in the news. And tonight, sometime around five o'clock Pacific Time, the NFL draft is going to kick off. And the 32 teams which make up the National Football League will take their turn at drafting the next promising prospect in order to improve their team and to increase their chances of going to the Super Bowl next year.
Why do I bring this up? We talk about many very serious things here on the observer, things that require our prayer, things that require our thought and our, our diligence, and our study of the Word of God. And these things are all things which we do in order to honor and glorify God. But do you know what else we need to do from time to time in order to honor and glorify the Lord? We need to have fun, and football? Well, football is just fun.
Maybe you're not a football fan. Maybe you are more of a hockey fan. Maybe you prefer tennis or maybe you're British and you'd like something along the lines of cricket. Whatever sport is your sport of choice. I want you to know that you should not feel guilty for enjoying something that is fun. And the reason why I say that is because we actually find in the Scriptures this command to find something under the sun that is fun.
In Ecclesiastes chapter two and verse 24. It says, The sage Solomon, the wise men of old saying says there is nothing better for a person than that he should eat and drink and find enjoyment in his toil. Proverbs chapter 15, says a glad heart makes for a cheerful face. Or again going back to Ecclesiastes three, also that everyone should eat and drink and take pleasure in all of his toil. This is God's gift to man, and I commend joy. The sage says in Ecclesiastes chapter eight, and I commend joy, for man has no good thing under the sun, but to eat, and to drink, and to be joyful. And so as we see time, and again, particularly within Ecclesiastes, but in other pieces of Scripture, there is this exhortation that at times it is not merely appropriate, it is indeed our duty before the Lord simply to have fun.
Now we can all be reminded of the dangers of sports. Indeed, our society elevates sport to an to a status that is more akin to that of idolatry. Christians should never embrace sports to that extent. But it isn't to say that we can't step back and just enjoy sports on occasion. I work alongside some of the godless men that you will ever find on this earth. I work alongside men who are committed to the duty of advancing the kingdom of their lives. Word in their Savior Jesus Christ. They work hard at their jobs, they are faithful as husbands. And they are true to scripture in fathering their children. And every day, every day, they work hard at what they do. And they want to be true to their king. And they wonder from time to time, is it right for me to do something as mundane as banal is maybe watching the draft on the NFL later tonight? My answer to that question is, yeah, do it. Enjoy it. Have fun. Bring your kids along, teach them a thing or two about sports. In all of these things, we need to be faithful to the Lord. And a part of faithfulness to the Lord will also mean taking time, not all the time, but once in a while, just to have fun and enjoy ourselves.
Thanks for listening to the observer. I'm Joshua Claycamp. And you can follow me on Twitter by going to twitter.com/joshua Claycamp. The observers the ministry of First Baptist Church where Christians seek to discern the news differently. For more information on First Baptist Church of Kamloops go to First Baptist Kamloops.org or for more information on First Baptist Classical Academy, just go to first Baptist classical.org. I'll see you again tomorrow for more of the observer. And until then, go Cowboys!